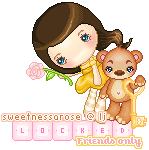 Want to be friends? Comment the post. If you don't comment, I won't friend you back.

There are a few things you should know about me before we become friends:
- Please be open minded. I like to have all sorts of friends, and I want my journal to be a safe place where everyone feels safe to be themselves.
- I'd like to have some common interests with you.
- If you never update or comment, please don't bother adding me.

Layout credit:
velvetb0x
Ratatouille Moodtheme credit:
upsa_daisy
Hobbits moodtheme credit:
hobbitholes
Liv Tyler mooodtheme credit:
italyatmidnight
Emmy Rossum moodtheme credit:
italyatmidnight
A Very Potter Musical moodtheme credit:
elena_hepburn
The Office Mood theme credit:
agt_bush
Black Swan mood theme:
ponchogoblins
Friends Only Blinkie:
iffier @
bb_blinkies. Please no stealing.